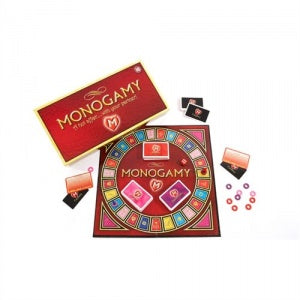 Monogamy need not be boring when you're having a hot affair… with your partner! You've asked us what we consider our best sellers and this sexy couples game tops the list by far.
Overview:
If Monopoly and Mercedes-Benz made a baby, it's safe to say it would be this game. Probably the ultimate sexy game for couples, Monogamy is jam-packed with more than 400 sensual and seductive ideas.
A throw of the dice and you've unlocked the golden door to a night of love, laughter and lusting after one another.
Why you want it:
Unlike many of the other adult games on the market, Monogamy places a strong emphasis on communication. With so many cards geared toward multiple comfort levels, Monogamy is a hot game that lets you and your partner discover what really turns you on.
Whether you want add some spice, open up more, or explore previously unspoken (or undiscovered!) fantasies, Monogamy offers a safe, fun and exhilarating sharing session with the most important person in your life.